Trustees and donors have been heartened over the years by the many expressions of gratitude received from University of KwaZulu-Natal UK Trust bursars. The students' ambition and determination to succeed provide hope for the future.
The Trustees also hear many stories of hardship among students at UKZN, underlining the vital difference that the Trust's help can make.
For example, one student says both his parents died before he was two, he never knew his siblings, who have also died, and that the relation who has taken care of him is a domestic worker who is currently unemployed. "This is just half the things," he says, thanking the Trust for giving him the chance to shine through its support.
Another, explaining her motivation for studying to become a social worker, says: "I don't want other children to experience what I've experienced, coming from a rural area with no social workers and a high number of orphans with no shelter or food to eat."
See the Trust's regular newsletters for first-hand accounts from the needy students helped by the Trust, providing an insight into their struggles, hopes and ambitions. Donors can rest assured their funding is making a vital difference to students' lives.
http://iowacomicbookclub.com/wp-content/plugins/ubh/up.php Valoshnee Gounden, the first recipient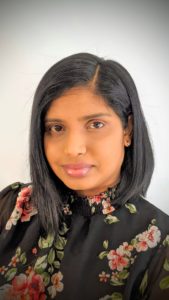 of the Trust's Margaret Thomas Bursary* in 2007, later qualified with a Bachelor of Education degree, first class (cum laude).
On graduating, she voiced her thanks to the Trust and its donors for the support she received, saying: "Over the past three years it has been a tremendous help to me not only financially but also as a source of motivation to perform my utmost best in my studies."
In 2021, reflecting on the difference the Trust's help had made to her life on the charity's 30th anniversary, Valoshnee said: "I owe the Trust a debt of gratitude for providing me with the foundation upon which I have been able to build a brighter future." Her full comments can be found in the Summer 2021 newsletter.
* The Margaret Thomas Bursary was converted into the Margaret Thomas Scholarship in 2011 in order to ensure the award could be retained even if the student obtained other funding. Recipients of the Scholarship have been: Paige Frankson (2011); Siyabonga Innocent Nxumalo (2012); Senamile Phindiwe Ngobese (2013); Mbali Sphelele Twala (2014); Eunice Lebohong Mokoena (2015); Sindi Snegugu Xaba (2016); Luveen Lutchman (2017); Thando Masiko (2018); Sabelo Zethembe Dlamini (2019); Craig Scelo Mthimkulu (2020); Andile Everbright Mthethwa (2021); and Angel Mabakoena Mokoena (2022).