The University of KwaZulu-Natal UK Trust is run by a Board of Trustees. Trustees are volunteers, normally drawn from alumni of the University resident in the UK.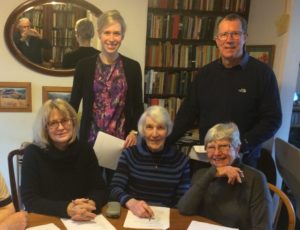 Appeals are made to such alumni to volunteer when a vacancy arises and prospective Trustees are vetted by the Board, who agree any appointment. All Trustees serve without remuneration or reward.
The Trust, as a small, independent charity, does not employ any staff or rent any offices. All the work is done by the Trustees and Trust supporters on a voluntary basis.
If you are interested in helping the Trust by becoming a Trustee, please contact us.
Current Trustees are:
Miharu Bachelor of Arts (Honours) (Philosophy) – Durban 1974-76 and 1980
Roger was Political Reporter on The Daily News and later News Editor on Business Day before emigrating to the UK in 1989. He worked at Westminster as Parliamentary Sub-editor for the Press Association throughout the 1990s. He switched to Teletext, the TV news and information service, in 2000 and managed its editorial product development until 2009. He went back to work for the Press Association where he served as Elections Editor 2013-20 before retiring. Trustee since 1992.
Secretary: Erin Bargate
Bachelor of Business Science – Durban 2004-08
Erin graduated from UKZN in 2008 with a Bachelor of Business Science Degree in Finance. She then moved to the UK to do a Masters in Financial Economics at Said Business School, University of Oxford. After graduating from Oxford, Erin moved to London to work for the specialist insurer Hiscox, where she is currently the Head of Casualty Pricing for the London Market business unit. Erin is also a Fellow of the Institute and Faculty of Actuaries. Trustee since 2015.
Treasurer: Richard Cooper
Richard is not an alumnus but is a supporter of the Trust, who as Treasurer has kept the Trust's finances sound, boosted revenue by securing the tax rebate on Gift Aid declarations and helped ensure compliance with Charity Commission rules. Richard worked for Midland Bank (now HSBC) for over 30 years before he retired, for the most part on the international side of the business dealing with the finance for imports and exports. But he did most jobs within branch, from sorting coin in pre-decimal days (before machines were invented) to making the tea. Trustee since 2004.
Penny Holmes (nee Human)
BA (English/Fine Art) and teaching diploma – Pietermaritzburg 1970-75
After briefly teaching at Howick School, Penny came to England to further her studies and settled in SW London. She married a fellow South African and has a daughter and a son. She teaches Art and History of Art at St Paul's School in Barnes. Trustee since 2009.
Shaunel Valoshnee Gounden

Bachelor of Education (cum laude) – Durban 2006-09
Shaunel's journey began in South Africa where she obtained a degree in education with the high academic achievement of cum laude. During her years of study, she was a beneficiary of the Trust's help. She went on to serve as an educator while earning a first-class honours degree in diversity and inclusion in education. In 2015, she made the bold decision to relocate to the UK. She moved into the professional services industry where she now works as a Digital Adoption Learning Manager. Trustee since 2023.
Sheralee Ghione
Sheralee is not an alumnus but, like her fellow trustees, is committed to trying to make a positive difference to the lives of people in South Africa. She moved to the UK in 2009 after becoming an FCCA-qualified accountant. She works as a Financial Manager and is known for playing a crucial role in business growth and future initiatives by delivering precise financial analysis and reporting. Trustee since 2023.